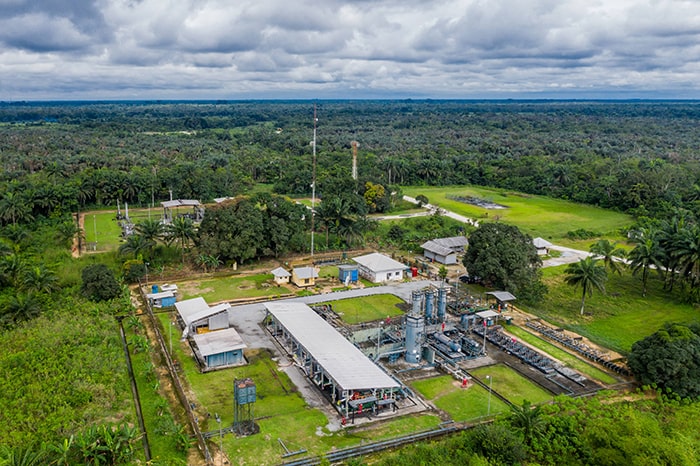 OML 30 is a world-class asset in the Niger Delta. It includes eight producing fields each with oil and gas contained in up to 40 stacked reservoirs.
OML 30 lies onshore within the Niger Delta in one of the most prolific oil and gas provinces in the world. The licence covers 1,097 square kilometres and includes eight producing fields with oil and gas contained in numerous stacked reservoirs. The fields are deltaic shallow marine shelf sands at intermediate depth. The fields each contain up to 40 stacked reservoirs and the reservoirs are underlain by substantial aquifers that provide very strong pressure support. The oil is good quality 22-38° API and typically sells at over a 2% premium to Brent.
Since 1961 over 200 wells have been drilled on the licence and the strong aquifer support has enabled the majority of these to be producers. There is the potential to both stabilise and increase production in the near term through rigless workovers in existing wells and drilling of additional producers.
The licence benefits from infrastructure being in place with nine flow stations (eight currently operating). The facilities benefit from a standard design so equipment can easily be replaced or upgraded if required.
The OML 30 acquisition included a segment of the TFP which transports liquids from OML 30 to the Forcados Terminal. The 87 kilometre long pipeline is 28 inches in diameter and has a current capacity of about 600,000 bpd. The TFP is used by several other operators and provides additional revenue for OML 30 through the tariffs charged.
Heritage Energy Operational Services Ltd (HEOSL) took over operatorship of OML 30 in 2017. Since then, Heritage has embarked on aggressive rehabilitation and upgrade of facility equipment, resulting in additional wells being opened and optimised for production.
Most of the current production increase is as a result of production optimisation activities and additional investments in facilities equipment to improve capacity and uptime. Some well intervention activities and flowline repairs have also contributed to the current production. The production growth was also supported by improved security and robust community relations programmes.